Open daily from 11:00 a.m. - Wednesday closed
Breakfast ~ Lunch ~ Snack ~ Dinner

The entire restaurant area (45 seats), the beer garden (24 seats) and the sanitary rooms are on one level and are free of steps and other obstacles.
Our chefs are particularly attentive to the freshness and quality of all the ingredients used in the preparation of the dishes. Thus, our guests can be sure that they always have a varied and individual range of high-quality dishes to choose from.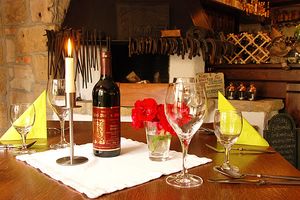 They have the choice between different house specialities, traditional dishes from the region, as well as seasonally topical dishes. The entire menu is designed in such a way that even vegetarians, diabetics and seniors do not have to forgo any enjoyment. For the children we have put together a special menu, which is culinary and pedagogically thought out and prepared only from fresh products.
Our wine assortment is mainly oriented to the food offer. This makes it easier for our guests to find the right wine to accompany their meal. But also a personal and competent consultation by the blacksmith landlord is guaranteed.
We recommend two specialities from Bohemia for the friends of a cultivated draught beer: A wonderfully fresh Pils with 12 degrees original wort and a palatable black beer of an elegance, as one finds it only rarely. Both beers are brewed in the Svijany brewery near Liberec, founded in 1564, using the traditional open brewing method and are not pasteurised.
Wheat beer lovers can look forward to a sparkling, mild Paulaner Hefeweißbier - bright - on tap. Also non-alcoholic, refreshing and low in calories from the bottle. Especially in our house now again for all epicures and gourmets;

Our popular and well-known lamb, fish and poultry specialties, such as:
Braised lamb hind leg >>our house speciality<<
Pike-perch fillet, roasted on the skin, with fresh chanterelles
Flying duck roast, released
... and many others delicious ...